News
Harlequin Floors to Houston Ballet's rescue following Hurricane Harvey
29 October 2019
For over two decades, Houston Ballet has trusted Harlequin for first-class customer service and superior products. In August 2017 that relationship strengthened when disaster struck. Hurricane Harvey dropped unprecedented amounts of rainfall on the city of Houston. Over 40 inches of rain drenched the region causing substantial flooding in the Theater District area. The Center for Dance sustained significant water damage destroying the floors in both the Dance Lab and the "Little Brown" Studio. The Houston Ballet team soon discovered that their home theater, the Wortham Theater Center, also suffered damage.
Andrew Nielsen, Houston Ballet's production director, assessed the damage a few days after the storm. "We had only four inches of water on our main floor, but our basement took on water from floor to ceiling," he says. When his team pulled up the visibly soggy floor in the lower studio and black box theater, it revealed six inches of water trapped underneath.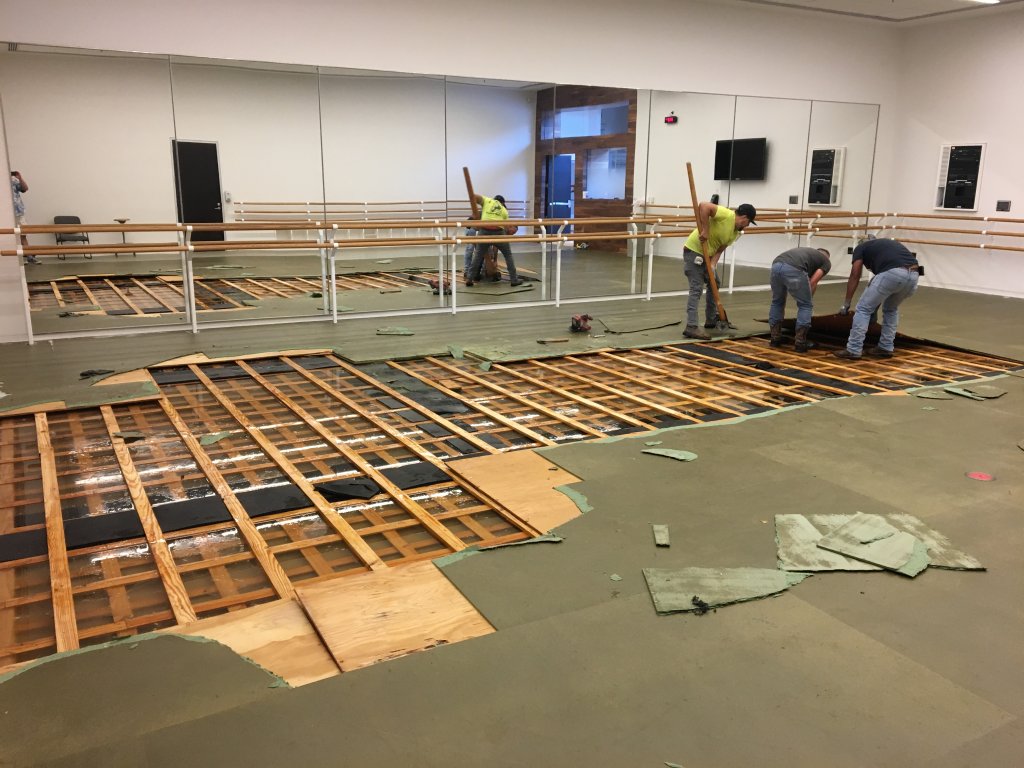 The flooding in the theatre was worse than expected. The staff has moved 50 ballets worth of costumes above the three-foot floodline that had been set by a previous storm, but the theatre took on 15 feet of water, leaving water on the stage level and closing the building for an entire year.
"When we first spoke with Houston Ballet about the damage they had suffered, we knew it was significant," says our American colleague (executive vice president) Pat Basileo. "But each time we heard from them the news just kept getting worse. It was unlike any situation we had ever encountered."
The Houston Ballet company managed to secure a temporary performance space, which allowed them to go ahead with their season opener: The North American premiere of Sir Kenneth MacMillian's Mayerling. However, the performance space, at Houston's Hobby Centre did not have a sprung floor, despite being a suitable size for the production. Nielsen contacted Harlequin in desperate need of a portable sprung floor and within two weeks, $50,000 worth of Harlequin Liberty portable flooring had been built and delivered to the Hobby Centre, in time for the opening of Mayerling on 22nd September.
The next focus was getting new permanent flooring for the company's Centre for Dance which they used for community events and rehearsals. The two damaged studios were up and running with Harlequin WoodSpring and Harlequin Studio just over a month after the hurricane hit.
"They knew we were in a really bad spot," says Nielsen. "They were like, let's drop everything and put Andrew at the front of the line. A lot of companies would gouge in a time like that. What they were able to do for us was incredible."
"We take pride in knowing that we could assist in a small way a community that suffered such massive devastation," says Basileo.
Well done to our colleagues in America for doing such a fantastic job!